Equip Your Home or Business With a New HVAC Unit
GET AC REPLACEMENT SERVICES FOR YOUR HOME OR BUSINESS IN LAS VEGAS, NV
Is your AC unit starting to act up? Are you tired of constantly messing with the thermostat to get your heating or cooling unit to turn on? Reach out to the pros at RCP Mechanical for residential and commercial AC replacement services. For our customers in the North Las Vegas, NV area, we can remove your current AC unit and replace it with a new one for consistent temperature control in your home or business.
When should you replace your HVAC unit?
Your system may start to show signs that it's about to fail. Arrange for AC replacement services if you notice:
Leaking or puddles
Loud or strange noises
Inconsistent heating or cooling
Call us today to set up an appointment for residential or commercial AC replacement services.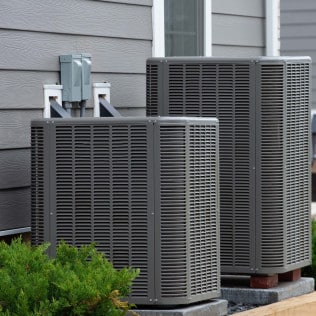 HVAC Service 5-Star Reviews
Found my new HVAC guy. Honest, great pricing, and highly competent. Highly responsive via text. Had an issue with our furnace, Robbie personally answered my message within 30 minutes and came out the next day. Was able to repair my furnace in less than an hour while other companies wanted to do expensive replacements. I can't say enough about how honest and straight shooting Robbie is. In a world of scammers and frauds, it is very refreshing to deal with a man with integrity. Five stars.
We have used RCP roughly 4 times now for both heating and cooling repairs. Always gets me in quickly, responds well to questions and great at explaining everything that is being done and why. Will definitely continue using them in the future!
Robert and RCP Mechanical are one of the most honest, trustworthy, and professional repair companies I've ever dealt with in the Las Vegas valley. I was very close to purchasing two brand new A/C units because my home warranty company was insisting that my units were recalled and not covered per the repair company they sent. I called RCP seeking a quote for the replacement. Robert came out, diagnosed the problem as something different, and had me up and running in less than an hour. Saved me thousands. Thank you!!
Robbie is legit!! Military background in residential HVAC (roof HVAC heat pumps to mini-split), commercial HVAC, and seeked to teach at a HVAC school. No sales pitch, not being ripped off. He's patient, great at listening and explaining, and most of all he's genuine. He's not in the business to rip you off, or scare you with fear tactics like 5 other HVAC we've contacted. Wish we found him earlier! Referred to us by my brother who found him on Yelp as a fellow veteran. He used Robbie for his rental house, so we decided to try Robbie for a tune-up and he nothing but amazing! Anyone who has gone through such horrible experience with other HVAC local companies....Robbie is fresh air. Its relieving to know there are still good people and companies around. We went through 5 HVAC quotes and picked a referral on our last HVAC check.....horrible but had no choice? Had already contacted so many different companies. $79.99 for a Tune-up. We have a heat pump (roof HVAC) so we only need it once a year. If you have a packaged HVAC with natural gas, then you'll need a tune-up 2x a year.
Highly recommend. He was prompt upon arrival. He had a personable and professional demeanor. Robbie explained what needed to be repaired and why. Reasonably priced repair. Documented diagnosis with photos and showed us the removed part. Very pleased and would definitely use him again.
Michael McNerny
10/05/2022
Excellent and timely service!!
Rob was amazing!!! He made sure our return air fan was fixed ASAP so we can sleep soundly at night. He fixed it fast and perfect. Very responsive as well. Thank you so much. -jeff and kelly
Robbie showed up on time and got our AC fixed in no time. We're happy with the great service.
AC Replacement Options
RCP Mechanical provides professional air conditioning replacement services for residents in the Las Vegas area. We offer a wide range of AC units to suit the specific needs of our customers, and we provide expert advice to help our customers make the best choice.

Why Choose RCP Mechanical for AC Replacement
We have a team of certified technicians who have the expertise to handle any AC replacement job, big or small. We use state-of-the-art tools and equipment to ensure that each replacement is done correctly, and We follow all necessary safety protocols to protect our customers and their property.

Our Satisfaction Guarantee
RCP Mechanical is committed to providing customers with the highest level of service and satisfaction. We offer competitive and upfront pricing to ensure that there are no hidden costs. Once the replacement is complete, our team provides a thorough inspection to ensure that everything is working correctly.

Do We Offer Ongoing AC Maintenance
RCP mechanical also offers a range of maintenance services to keep AC units running efficiently, such as regular cleaning and inspections. We provide emergency repair services 24/7 to ensure that customers are never without a working AC unit.

Our expertise and commitment to customer satisfaction make us the ideal choice for AC replacement and maintenance services in Las Vegas.